Hair extensions for thinning hair
It's often said that our hair is our crowning glory, but for those of us with fine or thin tresses, it can feel more like a royal pain. But don't despair! As a hairdresser, I'll cover the art of enhancing these delicate strands with hair extensions. This isn't your average beauty advice, my guidance stems from years of experience and technical know-how.
In this article, you'll find invaluable information on how to choose the right lightweight and invisible extensions that won't cause damage. You'll learn about wefts, weft hair extensions, and fusion hair options, among others. We'll delve into application techniques to ensure seamless integration with your natural locks and discuss proper extension care to prolong their life span.
Key Takeaways
– Hand-tied hair extensions are recommended for thin or fine hair as they are lightweight and blend well with natural hair, adding volume without causing damage.
– Invisible tape-in hair extensions and mini tape-in hair extensions are also suitable for thin or fine hair, providing a seamless and lightweight option.
– Fusion hair extensions, done using micro-fusion bonds with keratin glue, are considered the least damaging option for thin hair, but professional installation is necessary for best results.
– Clip-in hair extensions for thinning hair should be used sparingly or for special occasions, as frequent putting on and taking off can cause damage to natural hair.
Understanding Thin and Fine Hair
Understanding the nuances of thin and fine hair is crucial before you choose a hair extension, as it's not just about adding volume, but also ensuring your natural hair isn't subjected to unnecessary damage or strain.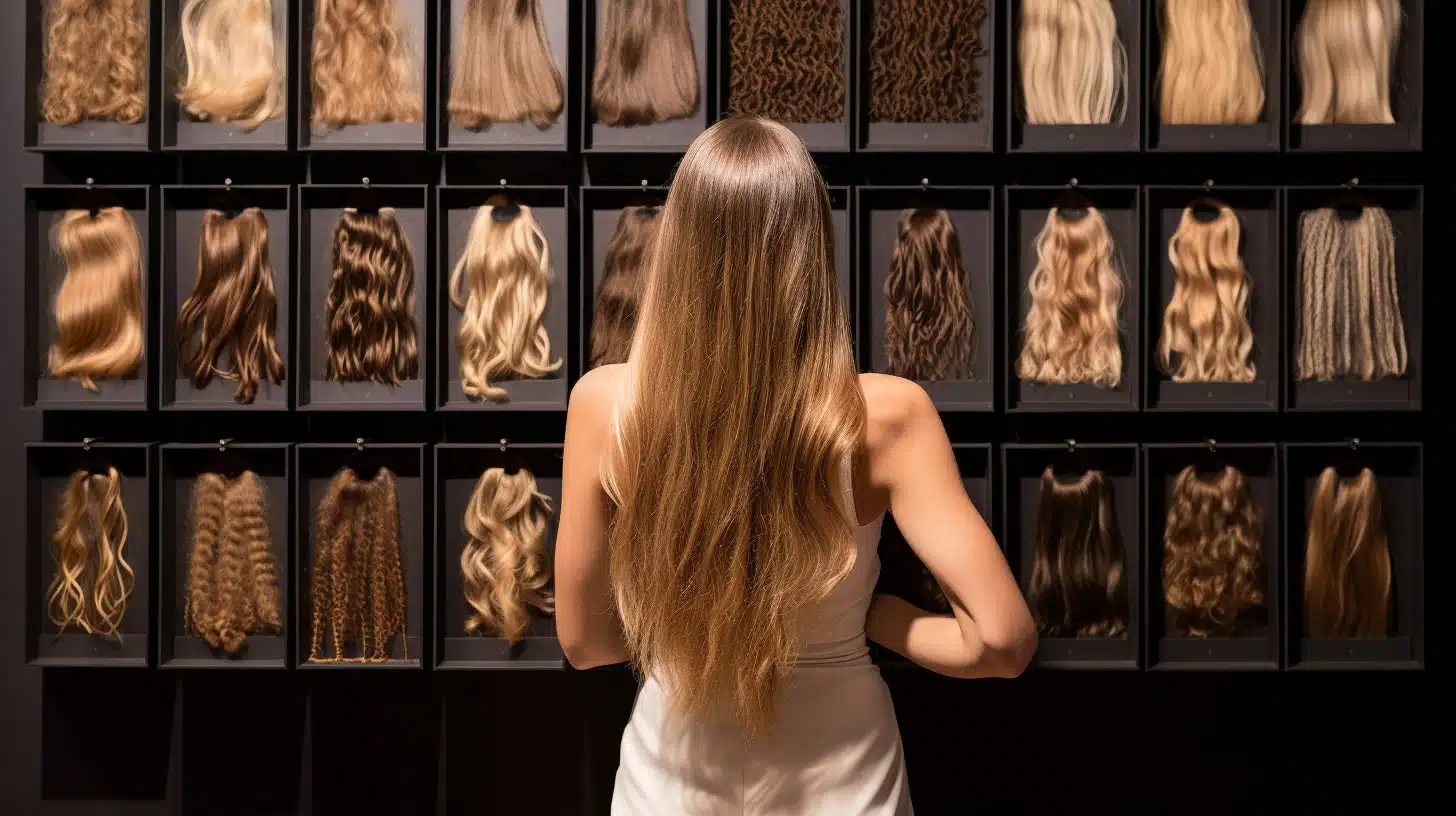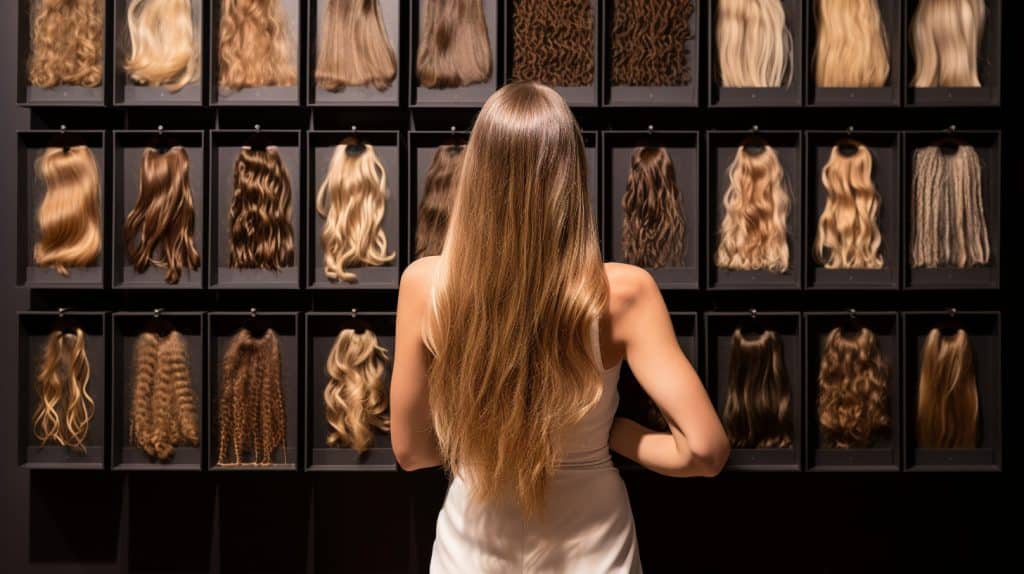 Thinning hair refers to a reduction in the number of hairs on your scalp, while fine hair describes strands with smaller diameters.
When considering extensions for thin or fine hair, it's essential to opt for lightweight options that won't exacerbate any existing issues with breakage or fragility. Some people may experience accelerated thinning or even hair loss due to tension from heavy extensions. Hence, invisible and chemical-free extensions are often recommended. These blend seamlessly into your natural tresses, reducing the risk of noticeable differences in texture and thickness.
Hand-tied wefts are an excellent choice for thinning locks as they're light and lay flat against the scalp. Not only do these provide added volume without putting undue stress on delicate strands, but they also work well with straight or wavy hairstyles.
Remember that understanding thin and fine hair goes beyond recognizing its characteristics; it's about choosing solutions that enhance your look while preserving the health and integrity of your natural crown.
Choosing the Right Extensions
So, you're ready to ramp up your look with some extensions, aren't you? Let's dive right in and explore the wide world of options that can give your fine or thin hair a beautiful boost without causing any damage – after all, who says glamour has to come at a cost?
There are many types of hair extensions for thinning hair and balding on top of the head. The best hair extensions for thinning hair include hand-tied extensions, invisible tape-in hair extensions, and genius weft hair extensions. These lightweight options blend seamlessly with natural hair.
| Type | Pros | Cons |
| --- | --- | --- |
| Hand-Tied Extensions | Lightweight; Blend well with natural hair | Require professional installation |
| Invisible Tape-In Extensions | Undetectable; Chemical-free tape | May not work well for extremely thin edges |
| Genius Weft Hair Extensions | Can be cut into smaller pieces; Blend well with thin or fine hair | Must be applied accurately |
For issues like balding on top of the head or a thinning hairline, crown fusion hair extension prostheses also prove effective. Remember to choose an option that matches your natural texture and color. It's crucial to consult a hairstylist when choosing the right extensions as this decision can significantly impact your overall look.
Extension Application Techniques
When it comes to applying extensions, there are several tried-and-true techniques that can beautifully enhance thin or fine hair without causing any damage. The key is choosing the right extension application techniques that suit your specific type of hair.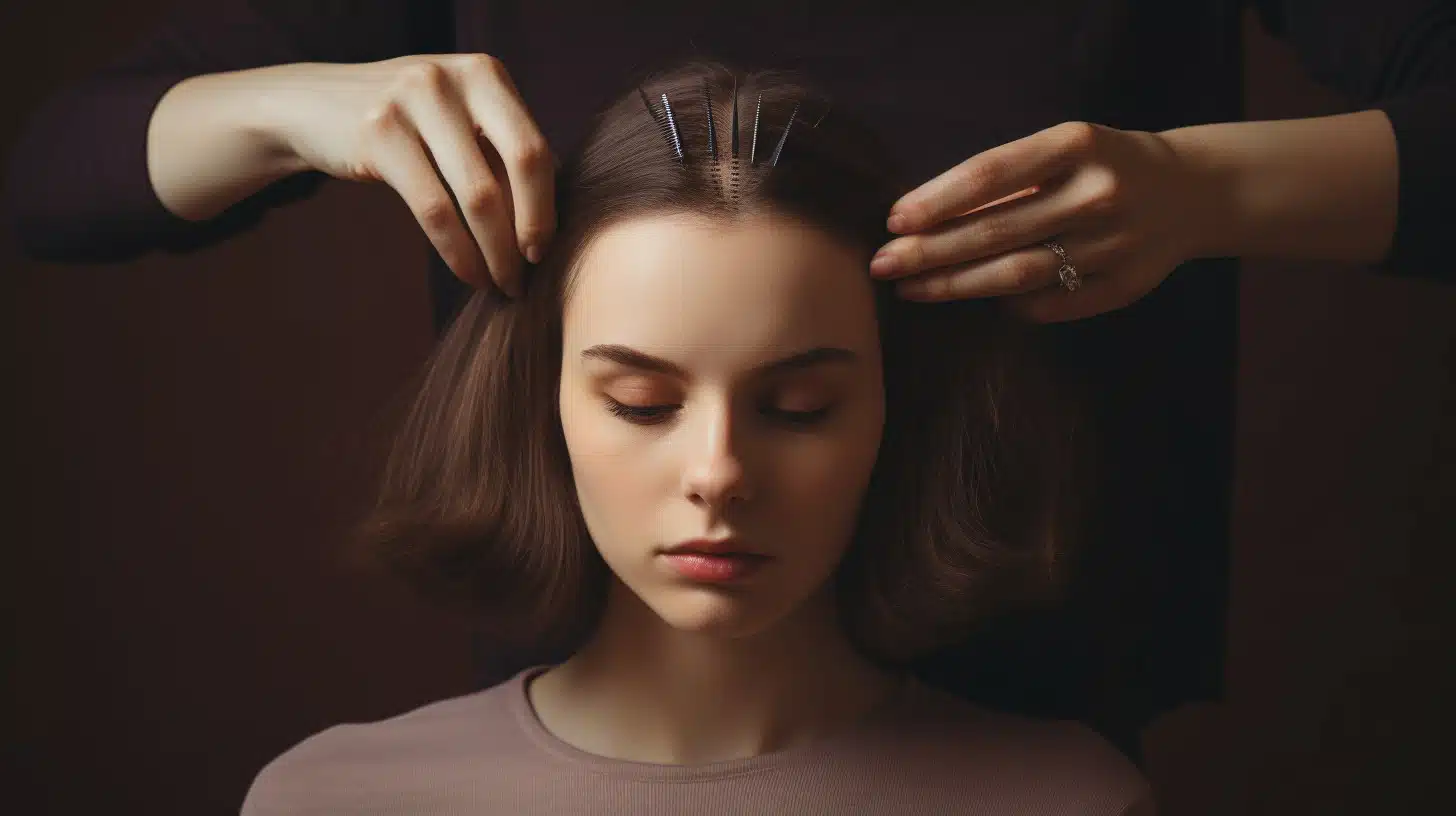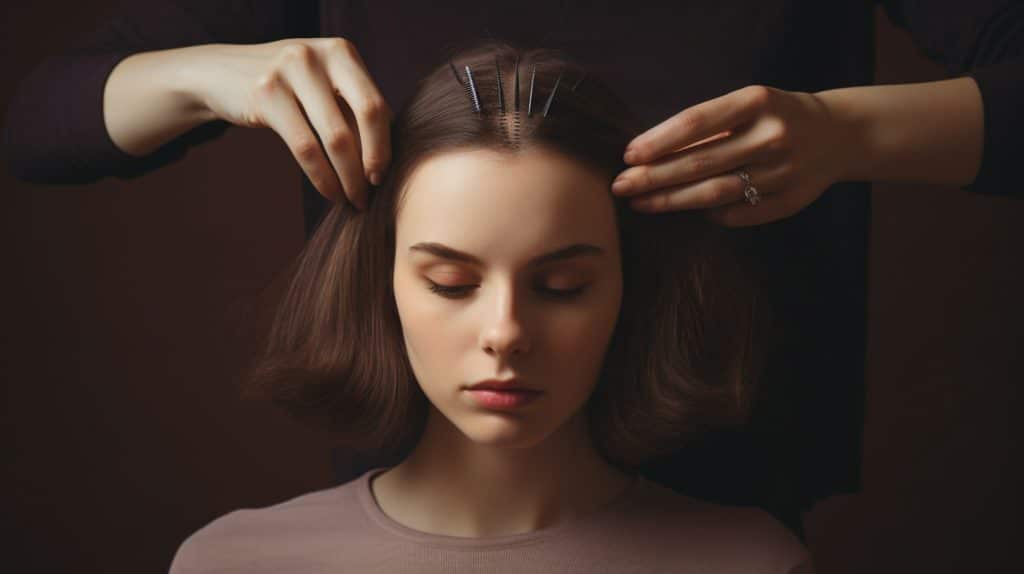 For instance, if you have thinning hair, the best hair extensions for thinning hair would typically be lightweight and less bulky options like tape-in or hand-tied extensions. These types are often less visible and blend better with your natural hair.
Here are a few popular methods:
– **Clip-in Hair Extensions:** Quick and easy to apply, these can add instant volume. However, they should be used sparingly on thin or delicate strands.
– **Sewn in Hair Extensions:** This method involves sewing wefts of human hair onto braided sections of your own hair. It's an excellent way of adding length and density.
– **Tape-in Extensions:** They're lightweight and sit flat against the head, making them ideal for thinning locks.
– **Micro-link Extensions:** These involve attaching tiny wefts of human hair using small silicone-lined beads which cause minimal stress to your roots.
Remember, professional installation by a trained hairstylist is crucial regardless of the method chosen. This ensures not only optimal aesthetic results but also preserves the health of your natural tresses.
Shampoos with volumizing properties are best for fine hair. That's because they're formulated to remove product build-up, plump strands, and leave hair feeling (and looking) light.

https://www.byrdie.com/how-to-style-fine-hair-4686868
Caring for Extensions
You've got your gorgeous extensions installed, now the real challenge begins – taking care of them! As your human hair extensions for thinning hair are an investment, it's important to maintain their health for both aesthetic and longevity reasons.
The first step is to ensure a good washing routine. With thin hair, you should be careful not to over-wash as it can lead to oil build-up which can affect the weft and decrease the length of your extensions.
| Tip | Details |
| --- | --- |
| Wash Routine | Use clarifying shampoo on scalp and extension attachment areas; use moisturizing shampoo on rest of the extensions. |
| Hair Products | Avoid too many products – they make the hair greasy and can reduce extension longevity |
| Frequency | Fine hair can be washed every other day; Clarifying shampoo once a week |
After washing, drying is equally essential. Always towel dry gently before blow-drying to avoid tangles. For styling, use heat protectants when necessary but avoid high temperatures that could damage bonds or adhesive.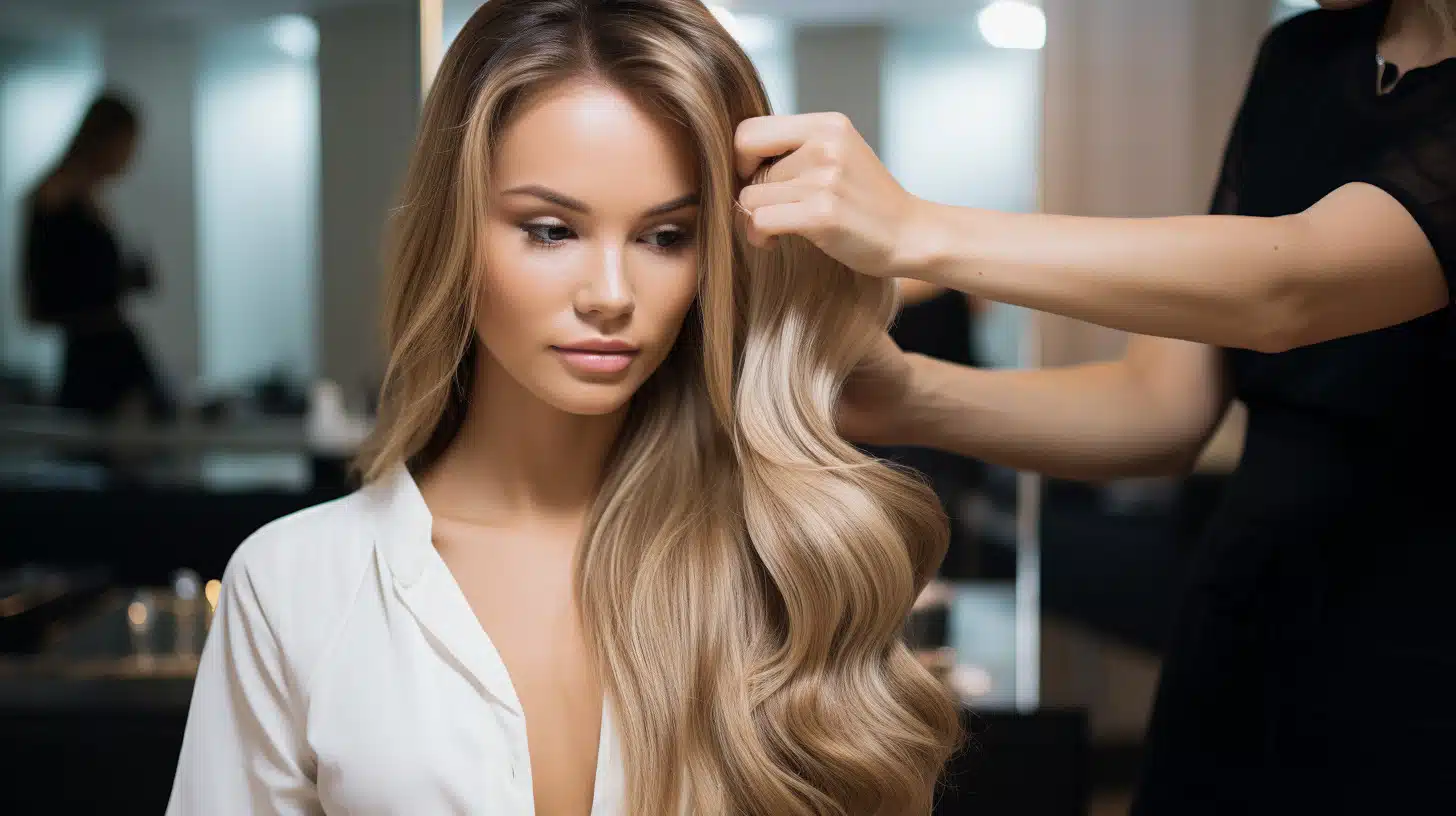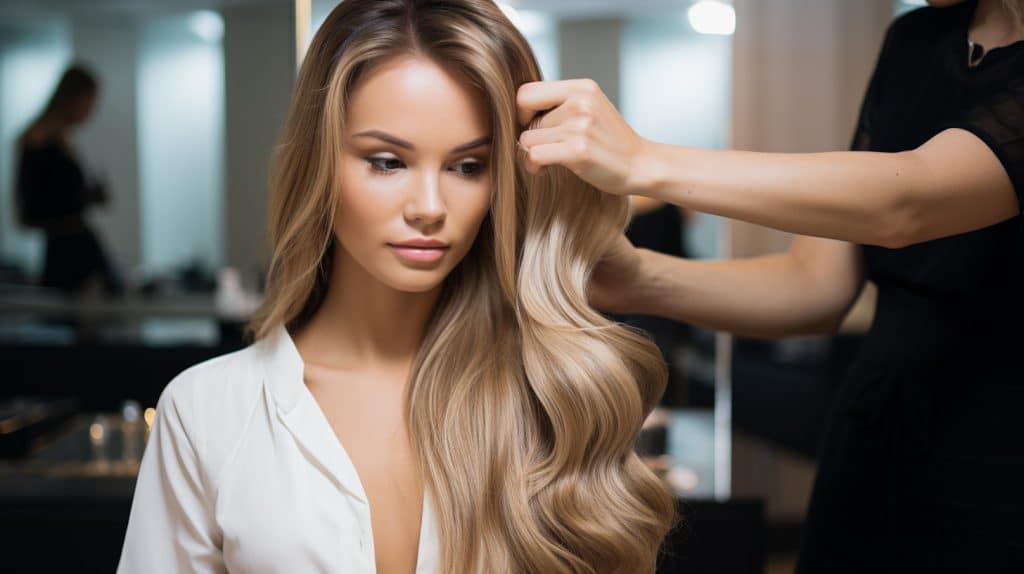 In terms of color match, always consult with professionals initially and then shop hair extensions for thinning hair that blend well with your natural hues. Remember: you're not alone in this journey! If ever in doubt whether 'is my hair too thin for extensions', seek guidance from specialists who understand caring for extensions better than anyone else.
Expert Tips and Advice
Let's dive into some expert advice and tips that are sure to boost your confidence and skill in managing those fabulous extensions you've invested in. Whether it's hand-tied wefts or fill-ins, there are a few key things to keep in mind when maintaining your new locks.
– Always match the color of your natural hair with your extension color for a seamless blend. This will ensure that even if you have fine or thin hair, the extensions won't stand out.
– Don't attach wefts too close to the scalp or sides of your head. This helps prevent bonds from being exposed, thereby avoiding potential hair loss.
– Lightweight extensions are best for thin or fine hair. Heavier ones may cause tension on your scalp and lead to damage.
– Treat each strand of extension as if it's natural hair. Use heat protectants before styling and avoid high temperatures.
– Consult with professionals before choosing any extension type. They can provide personalized advice based on your specific hair structure.
Remember these tips while managing extensions daily. Your hairstylist is also an excellent resource for advice tailored specifically to you and the type of extensions you've chosen, ensuring that they stay beautiful while minimizing damage to your natural strands.
FAQs
Are Hair extensions for thinning hair any good?
Yes, hair extensions for thinning hair can be an excellent solution for thinning hair. Hair extensions for thinning hair provide volume and length, which can significantly enhance your appearance and confidence. However, it's essential to choose the right type of extensions for thin hair, to ensure they blend naturally with your existing hair and do not cause additional damage.
What hair extensions don't damage thin hair?
There are several types of hair extensions for thinning hair that are designed to minimize damage. For instance, clip-in extensions and tape-in extensions are generally less damaging and can be great options for thin hair. These types are lighter, distribute weight more evenly, and require no heat or glue for installation, which can help maintain the health of your existing hair.
How can I hide my thinning hair on my crown?
One of the best ways to hide thinning hair on the crown is by using hair extensions for thinning hair. Strategic placement of these extensions can create the illusion of fuller, thicker hair. In particular, hair extensions for thinning hair can help to balance out the appearance of your hair, drawing attention away from the crown and towards a fuller-looking hairline.
Can you hide hair extensions for thinning hair?
Absolutely, you can hide hair extensions for thinning hair. The key is to choose high-quality hair extensions for thinning hair and to have them professionally installed. It's also essential to select extensions for your thin hair that match your natural hair color and texture, ensuring they blend seamlessly. With proper placement and blending, hair extensions can be a well-hidden, transformative solution for thinning hair.